This past October, I attended a nopCommerce conference event (nopDays 2016) in Amsterdam where I was invited as a guest speaker; while I was there I had the luxury of meeting the founder of Xcellence-IT, a nopCommerce solution partner and a web development company from India that offers a wide range of IT services. During our meeting they shared with me the purpose of their company, the nopCommerce services they provide and some interesting information about the new plug-ins they recently developed. Upon returning to the US I had the opportunity to learn more about these plugins and through my explorations I acquired some great information that I think would be highly beneficial to nopCommerce store owners and my readers…
Today I will be reviewing the Universal SMS Plugin I learned about while in Amsterdam and downloaded from shop.xcellence-it.
So if you use nopCommerce for your online business and would like to take your nopCommerce site to the next level by giving your customers / online shoppers yet another way to communicate with your store site, you may want to look into a way to add SMS functionality to your nopCommerce site. Learn about what Universal SMS Plugin can do for you.
Installation
Installing this plugin is quite easy. Once, you have installed & activated it on your nopCommerce store site, you just need an account from a service in the support gateways (Email Sms Api, Http Sms Api, Twilio Voice & Sms Api Configurations).
Experience
While I was testing out this plugin, I paid attention to two main aspects: ease of use and usability. The plugin's interface is quite user-friendly and easy to use. The overall flow of configuring the settings is quite intuitive and the self-explanatory tabs make it easier for any store owner to setup this plugin.
Features
When it comes to addressing a store owner's unique needs, Universal SMS Plugin has it all. This plugin lets you send voice or text notification messages to all over the world. It offers pre-defined message templates that you can edit as per your business needs / requirements and support for multi-store configuration.
Let's take a look at some of the features and functionality that this plugin has to offer:
Admin notification
Store owner (or Admin) can receive message notifications on the following events:
New customer registration
New order placed in store
Order Paid
Order Completed
Return Request initiated by customer
Here is what one of the notification settings for admin looks like in the plugin configuration:
Actual notification message (SMS) on phone: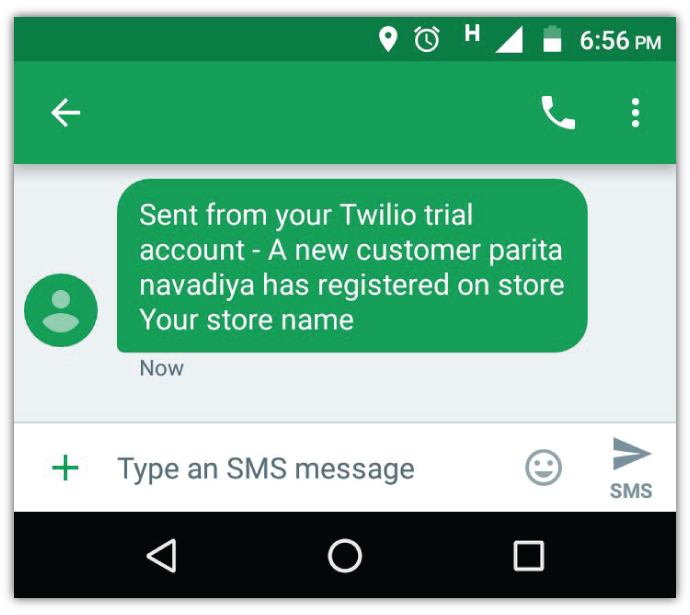 Here is another set of examples of admin notification: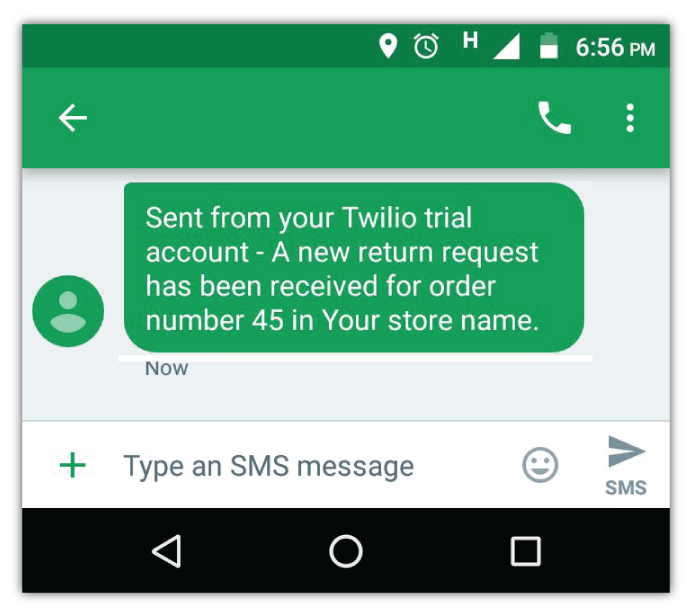 Customer notification
Customers can receive message notifications on the following events:
Customer mobile number verification/Change of mobile number
Order placed
Shipment initiated for order placed
Order delivered
Order is cancelled by Admin/Vendor/Customer
Order notes updated for order and display to customer is checked
Order processing
Payment refund initiated
Individual messages
Order Paid
Order Completed
Return Request initiated
Change status of return request by admin/ vendor
Vendor notification
Vendors can receive message notifications on the following events:
Order Placed for Vendor's Product
Order Delivered
Order Paid
Order Refund
Order Cancelled
Order Completed
Conclusion
Universal SMS Plugin is a powerful plugin and offers your customers a unique way to communicate with your nopCommerce store site. The documentation for this plugin is quite detailed and guides you through its configuration process. Overall, this plug-in could be a great advantage to NopCommerce store owners, so make sure to check it out!
---
This was a sponsored post. We provide a neutral review of the product or service and avoid listing pros and cons in order to best educate our readers while sharing the product's features and functionality; allowing them to make the final decision.
---