Do you ever wonder why some websites work these days without typing "WWW" prefix before the domain name? There was a time when every internet user used to type "WWW" in front of every domain. As time and trend changes, a lot of domain names started dropping the requirement of "WWW" prefix.
So, the question is - Do you need "WWW" domain prefix or not? As a store owner, it is totally up to you and your requirements.
Today, we will discuss how to manage WWW domain prefix in nopCommerce.
The reason why store owner needs to manage this is because not everyone will be typing the prefix while visiting your site. There will be some percentage of online customers who will type "www" with your domain name and some won't. For your site promotion also, there is a chance that you might add the prefix in some links and you may not add the prefix in other links. Again, why you need to manage? The reason is SEO (Search engine optimization) - In order to optimize your site, it is very important to be consistent and in order to be consistent you need to manage this settings so that if anyone is trying to access your site in a different way, the site functionality force the user to access the store site in a certain manner.
Go to:
Administration section > Configuration > Settings > General & Miscellaneous Settings
On "General & Miscellaneous Settings" page, select "SEO settings" tab and locate the option:

WWW prefix requirement: [OPTIONS]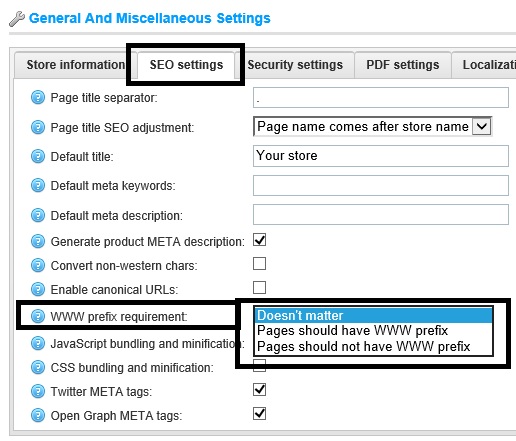 You can select any option from the three options!
For example, http://yourStore.com/ could be automatically redirected to http://www.yourStore.com/.
Doesn't matter Pages should have WWW prefix Pages should not have WWW prefix.
Hope it helps!
A copy of this article is also available on
Arvixe Blog
.