nopCommerce has a variety of great features that makes a store admin's job much easier. Did you know nopCommerce offers some procedures/tasks that runs on your online store's database (when executed) and takes care of maintenance work i.e. cleaning the database?
In order to execute these procedures, go to:
Administration > System > Maintenance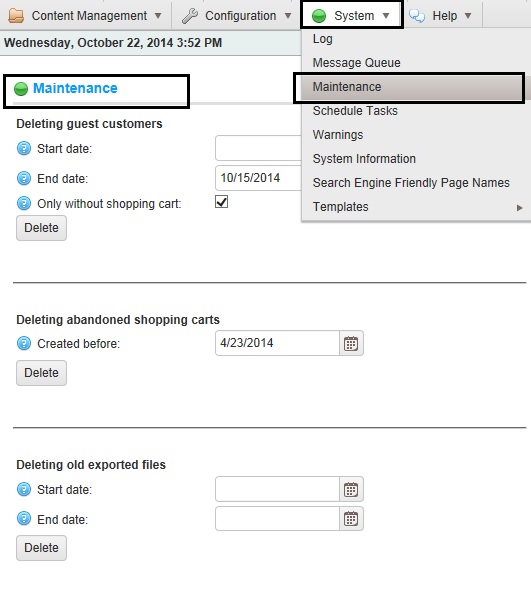 You will find 3 maintenance procedures in this section:
Deleting guest customers
Deleting abandoned shopping carts
Deleting old exported files
Deleting guest customers: In nopCommerce application, a guest customer record is created for each new user while browsing the website. All guest records are periodically deleted by a schedule tasks but in any case if a store admins wants to delete these guest account manually, then this features comes into play. This options enables you to delete the customers accounts created for guest visitors.

Note: If "checked" - Only those customers will be deleted who didn't place any order, added no products in the cart and didn't participate in any content (like product reviews or news comments etc)
Deleting abandoned shopping carts:
In nopCommerce application, when a guest visitor adds an item in the shopping cart but never checks out, the shopping cart is left under the guest account and considered as a abandoned shopping cart. For the maintenance purposes this must be deleted. This option enables you to delete all abandoned shopping carts created before the specified date.

Deleting old exported files:
In nopCommerce application, when a file is exported, a copy also get saved on the server/database. This option enables you to delete all the exported files that were generated (like PDF, Excel etc) from the database.

Hope it helps :)